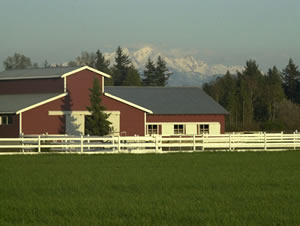 Agriculture remains a key sector of the Lynden area's economy, as it has since the early 1900s. In the midst of 148,027 acres of farmland in Whatcom County, Lynden is the center for many agricultural products and services.
Whatcom County is undoubtedly a primary reason why agriculture is Washington's top industry. With its annual $324 million market value of agricultural production, the county's agriculture industry has an impressive $1 billion economic impact annually. Rich soil, mild temperatures and enough rainfall combine to make Whatcom County one of the top 100 agricultural counties out of 3,097 counties in the country. Whatcom County farms lead the state in several agricultural commodities, including raspberries and blueberries. Most of the larger farms are within a 15-mile radius of Lynden.
Dairy Industry
Did you know Lynden's Darigold plant is the 4th largest producer of powdered milk in the United States? The shipments and processing of milk alone result in about 150 Lynden jobs. Lynden also has several large farm-equipment manufacturers and dealers, as well as feed and fertilizer businesses, serving dairy and crop farmers.
The number of Whatcom County dairies had shrunk to 183 by the end of 2003. However, local dairy farms still have more than 60,000 cows that produced nearly 1.3 billion pounds of milk in 2003 – approximately 150 million gallons. Those dairies also are the focus of many Lynden businesses that transport milk, convert it into powder, sell feed, and offer many services.
Berry Industry
The Lynden area is well known for its berry production. More than 65% of the nation's red raspberries are produced in Whatcom County, the largest per capita crop of red raspberries in the world. Raspberry growers harvested 58.2 million pounds from 6,400 acres in 2002. Many of the area's youth have summer jobs harvesting and processing the berries. By utilizing the Individual Quick Frozen (IQF) processing technique, local growers preserve the quality of the berries, which then are used in juices, syrups, yogurt, and much more.
Blueberries have been one of the area's bright agricultural sectors in recent years. Blueberry acreage has steadily risen to 720 acres that produced 4.8 million pounds in 2002. In addition, Whatcom County ranked second in 2002 strawberry production in the state with 380 acres yielding 4.4 million pounds. Renowned for their flavor, local strawberries now go primarily to fresh-market buyers at farm stands and local grocery stores.
Visiting Local Farms
There are numerous farms that are open who welcome visitors to stop by and watch production or buy fresh-from-the-farm products. The Chamber's Visitor Center can provide a map of local area farms. A list of local farms can be found in our business directory.
Appel Farms provides free samples and a viewing room to watch the family make their specialty cheeses, which includes several flavors of Gouda, a Dutch favorite. Samson Estates Winery grows their own raspberries used to make their award-winning raspberry wine. Stop by Edaleen Dairy's store and processing plant on the Guide and treat yourself to the best soft ice cream cone anywhere! Visit Lynden in the summer and pick your own berries at McPhail Farms or Barbies Berries, or come in the fall for the best apples anywhere at Stoney Ridge Farms and Bellewood Acres. Don't forget to visit the alpacas at Lost River Alpaca Farm, enjoy fresh hazelnuts at Holmquist Farms, and pick up your fresh potatoes at Bedlington Farms.
It's easy to understand why combining agriculture and tourism is a growing trend around Lynden…cheese, wine, ice cream, strawberries, blueberries, raspberries, apples, hazelnuts, potatoes…the local products that make the north county special.
The Lynden area also has farms growing seed potatoes, grapes, cranberries, Christmas trees, and much more. Several large greenhouses supply plants for numerous retailers. For more information about local agriculture, call Whatcom County Farm Friends, (360) 354-1337 or visit www.wcfarmfriends.com or Whatcom County Farm Bureau at (360) 319-9310 or mail to P.O. Box 703 Lynden, WA 98264