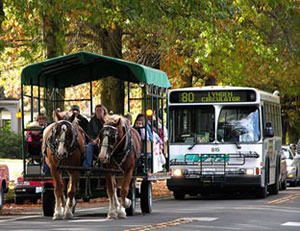 Lynden is located on State Route 539, a major connector between Interstate 5, which runs north-south through the western portion of the county and provides access to Seattle and Vancouver, B.C., and Trans-Canada 1. Because of its geographic location, Whatcom County presents an accessible and attractive location for businesses to locate. The average commute to work is 20 minutes—and much less for many residents.
Whatcom Transportation Authority (WTA) operates a transit station in Lynden located near the west entrance to town. A park-and-ride lot adjacent to the station contains more than 80 stalls and accommodations for recreation vehicles. Bus service is provided in the Lynden area with direct routes to Bellingham's Cordata Station once every 90 minutes, six days a week, with connecting service to Bellis Fair Mall, Whatcom Community College, downtown Bellingham, and the downtown transit station (providing additional service throughout the community).  WTA also provides specialized transportation throughout Whatcom County for those who are unable to use the regular transit system due to physical or mental disabilities, for those 65 or older without other transportation available to them, and for visitors not eligible to ride other para-transit systems because of a disability. For more information or for schedules, call WTA at (360) 676-7433 or visit www.ridewta.com. To request a ride for the specialized service, call (360) 733-1144, TTY (360) 676-6844 or (360) 354-3633.
Lynden's Jansen Field Airport services private aircraft and area businesses. The city also has a Burlington Northern Santa Fe rail spur. Only 20 miles south of Lynden, Bellingham International Airport has regular flights scheduled by Alaska/Horizon and Allegiant airlines. The Port of Bellingham is an important transportation gateway for ocean-going trade. In addition, Lynden is only minutes away from Amtrak rail and Greyhound bus stations (located next to the Bellingham Cruise Terminal in Fairhaven).