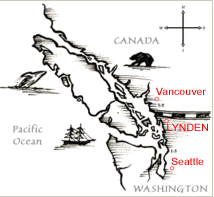 Border crossings within Whatcom County exist to the north of Lynden as well as Sumas, Point Roberts, and two in Blaine (one for cars, one for trucks). Hours vary per station. Crossings at Blaine and Sumas are open 24 hours a day.
For information regarding travel between the United States and Canada please check the current regulations at the United States Department of Homeland Security website. The United States Department of State has information regarding passport information requirements.
Please keep in mind that the men and women of DHS have a very complicated and important job ensuring the security of citizens and visitors alike. Your patience and understanding is greatly appreciated as they do their best to serve you and your family. While every effort is made to ensure little or no wait to enter the United States it is not unusual to have some delay. Wait times can be found at the Customs Border Protectionor Washington State Department of Transportation websites.
Canadian border officials will greet you as you enter into British Columbia. Please refer to the Visit Canada website for additional information regarding visiting our neighbors to the north. For additional information on wait times entering Canada please visit the Canada Border Services Agency website.
The Lynden/Aldergrove crossing is open from 8 a.m. until 12 midnight daily.