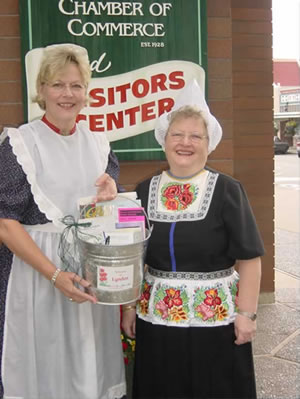 Dressed in authentic Dutch attire, Lynden's official ambassadors Virgi Diephuis and Ada Voskuilen greet new residents to the area with a complimentary gift basket laden with local goodies, coupons for free products and services, and information from Lynden Chamber of Commerce members. Newcomers are contacted through referrals from realtors, neighbors, businesses, churches and friends. The pair polls newcomers about their relocations to Lynden.
The major reasons for relocating to Lynden are: jobs, lack of crime, clean air, proximity to golf courses, schools, Lynden values, civic pride and availability of goods and services. For more information about Lynden's Welkom Basket Program, to receive a Welkom Basket or to request one for a newcomer, contact the Chamber of Commerce at (360) 354-5995.
Thank you to our 2011 Welkom Basket Business Sponsors!
| | | |
| --- | --- | --- |
| Ace Hardware | Industrial Credit Union | Pioneer Ford |
| Appel Farms, LLC | Kulshan Veterinary Hospital | Second Christian Reformed Church |
| Bellewood Acres | Lloyd's Electronics | Sterling Savings Bank |
| Carol's Hallmark | Lynden Breakfast Kiwanis Club | Surroundings |
| Creative Design Hair & Sculptured Nails | Lynden Christian Schools | Subway Sandwiches |
| Dave Burns – State Farm Insurance | Lynden Community Center | The Car Wash |
| Dutch Mothers Family Restaurant | Lynden Dental Health Center | True Value Hardware |
| Eagle Plumbing & Heating | Lynden Dutch Bakery | Vander Griend Lumber Co., Inc. |
| Eastside Market & Deli | Lynden Performing Arts | WCC Promotions |
| Edward Jones Investments/Brian Lydiard | Lynden Pioneer Museum | Wells Fargo Bank |
| Edward Jones Investments/Brett Hendricks | Lynden Sheet Metal | Westside Building Supply Do-It Center |
| Edwards Drapery & Interiors | Lynden Tribune & Print Co. | Whatcom Farmers Co-op |
| First Christian Reformed Church | Lynden Vision Clinic, P.S. Corp. | Whatcom Transportation Authority |
| Friends of the Lynden Public Library | More Than Antiques | Woods Coffee – Fairway Center |
| Great Clips | Mt. Baker Vision Clinic | Woods Coffee – Bender Plaza |
| Hinton Chevrolet Buick | Nooksack Valley Disposal | Woods Coffee – Marketplace |
| Homestead Golf & Country Club | Northwest Professional Services | Yellowbook |
| Hope Lutheran Church | Peoples Bank | Zylstra Tire Center, Inc. |